Design Trends and Inspiration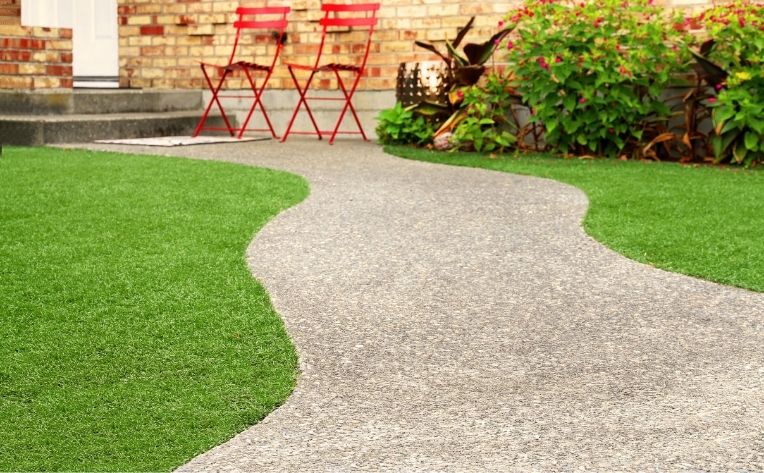 Oct 23, 2020
Obsessed with your lawn? Frustrated it won't stay green? We have the key to the ideal outdoor oasis: turf. It's a great way to enhance your backyard and patio, or even decks and balconies. Check out some of the ways we've been loving turf this season, and maybe you'll find some outdoor inspiration along the way.
All turf. All the way.
Homeowners everywhere are taking advantage of the evergreen qualities of turf landscaping. With turf, having a flawless lawn is simple. No more trips to the garden center, no more aerating, and, our favorite, no more lawn mowing. Just lay down the color and style of turf you like, and your lawn stays perfect all year long. It's great for kids and pets to play on, and for you to entertain, no matter the occasion.
Beyond the Lawn
Even if you're not looking to replace your entire lawn with turf landscaping, turf can play a huge role in outdoor entertainment spaces. Many homeowners have taken advantage of turf for walkways. It adds a distinctive element to flower and vegetable garden paths, replacing stepping stones. Others have chosen to cover their concrete patios or pathways to give their space a bright, green look. And even if you don't want to cover your patio (or balcony!) completely in turf, it adds a striking accent below seating areas or outdoor dining tables to create a more inviting dynamic.

Recreational Areas
Backyard pickup game? No problem. Turf is the choice for active families looking to open up a space to use strictly for sports. As with most professional teams, turf is the preferred playing surface. It drains quickly and needs only minimal maintenance to remain in good condition, all year round, no matter the activity. Another plus to turf landscaping is that it never requires potentially toxic lawn care chemicals and never produces pollen. So, it's a nice, safe option for the entire family to enjoy.
Putting Practice
Calling all golf lovers. Turf has been growing in popularity for golfers to get some at-home practice. No matter the size, it's easy to cut the right putting green for you. You can also take advantage of your yard's natural slope or undulations to make your green more challenging. We've even seen some homeowners build small water features or add various grass styles to simulate fairway conditions. Any way you slice it, turf will both beautify your lawn and help you improve your golf game.

Ready to Accessorize
Because turf is so vibrant and consistent in color, many homeowners are choosing to accent turf with outdoor furniture. Whether it's the benches of a picnic table, the cushions of an outdoor lounge area, or even an outdoor throw pillow, turf is the perfect backdrop (ground-drop?) for outdoor accents.
The Grass Is Always Greener with Turf
Love a green lawn? Love it all year round with turf. Call your local Flooring America today, and we'll have our experts ready to talk everything outdoors to make your space the best it can be.
Continue Reading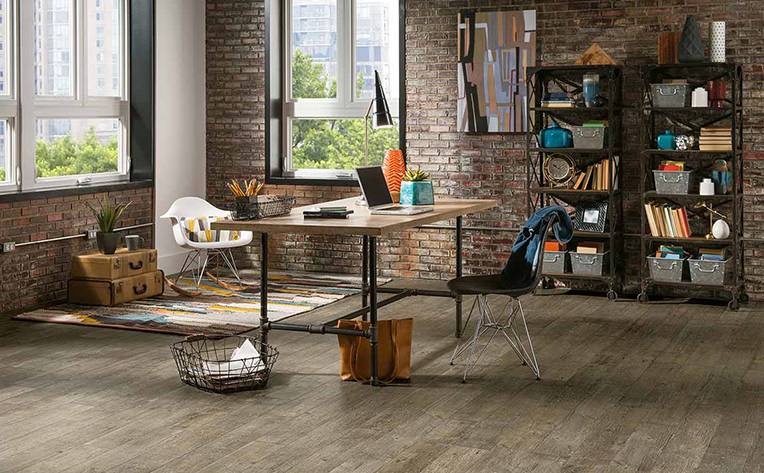 Oct 07, 2020
You've been working from home for a while now. And, well, it's looking like work-from-home may be the new norm. But, with a little love, your home office can still feel like a destination. And every great home office starts with even better floors, so no matter the kind of work you're doing from home, we've gathered our favorite WFH floors to help keep your creativity high and your stress low.
Hardwood
Hardwood is a classic. It's sleek and sophisticated yet also warm and inviting. Add a bold area rug or let the floors shine alone. Either way, your office will be the clean, calming space you need to settle in and get stuff done. With hardwood, you'll impress your guests and your business partners (no more virtual backgrounds!), and you'll be feeling like the CEO of your home in no time.

Tile
Perfect for rolling chairs, working lunches, and coffee spills: tile. Tile is great for the home office as it's durable and water-resistant, making it an ideal option for frequently used rooms. With tile, you can enjoy a variety of styles and colors. You can even choose tile that looks like hardwood. No matter your vision, tile gets it done. Plus, if you think the kids and pets will be in and out of your office as well, tile just might be your saving grace.

Carpet
When work gets stressful, seek comfort in carpet. Choose from a variety of colors and textures to really make your home office a space that suits you. Even better, it's comfy underfoot—no need for slippers. Plus, if you're more into the standing-desk style, what better way to enjoy your workday than with cushy carpet under your feet. You can also find waterproof carpet to ensure that it stays clean for years to come.

Luxury Vinyl
If you're interested in the look of wood or tile with a low renovation budget, then say hello to luxury vinyl. It's highly durable, water resistant, and softer underfoot compared to tile and hardwood. Plus, it looks amazing in any room, no matter which style you choose. Spruce it up with a rug and some bold furniture, and your home office will be the perfect space to settle in and stay productive throughout the day.

A Home Office That Works for You
It's time to take on that extra room in your house and turn it into your productivity hub, and Flooring America is ready to help. Call your local Flooring America today and talk to us about our selection of hardwood, tile, carpet, and luxury vinyl. We'll do the work to make it a great office, so you can stay focused on your work, all day long.
Continue Reading
Sep 30, 2020
Ready to sell? If so, your floors are key to boosting your home's resale value. Look down. How are they holding up? Sure, you've gotten some great years out of this house, but you don't want it to wear those years on its floors. From the kids and pets to countless holiday parties, your floors have gone through it all. So before you list, check out the most sought-after flooring options for homebuyers to give you the best bang for your buck.
1. Hardwood Floors
Hardwood is one of the best flooring choices for homeowners looking to sell. Nothing can compare to the timeless style of hardwood floors. Homebuyers are attracted to the classic, natural look of hardwood. Plus, some hardwood has the ability to be refinished time and time again, allowing the homebuyer to make it their own. Depending on your home's style, there's a hardwood size and species to truly add to your home's charm.

2. Waterproof Floors
There's nothing that appeals to families more than waterproof floors. Waterproof floors combine beauty with practicality—ideal for kids, pets, and the entire family. Plus, you're not limited with these floors. Choose from tile, waterproof hardwood, luxury vinyl, and carpet. Yep. Even waterproof carpet. That'll turn heads during your first showing. Homebuyers will be thrilled to walk into a low-maintenance, durable home, perfect for every family.

3. Laminate Floors
If you're not looking to invest in hardwood, laminate is a nice low-budget alternative. Laminate can imitate the beauty and charm of real hardwood at a reduced cost. Made with resin and fiberboard material, laminate's imprinted image of wood is highly realistic. Homebuyers will love it. It's low-maintenance and highly durable. Plus, it's resistant to scratches and stains thanks to new technologies. So, for homebuyers with pets, check!

4. Luxury Vinyl Floors
Affordable. Durable. Easy. Three words to describe luxury vinyl. Wow homebuyers with the look of wood or stone without overspending. Luxury vinyl is long-lasting, resistant to moisture, and easy to maintain. It looks great and performs better, a homebuyers dream.

Increasing Your Home's Resale Value Through Flooring
If you're ready to sell, get your home in shape. Call your local Flooring America today and talk to us about our hardwood, carpet, laminate, and luxury vinyl options. Get your home ready before you list, so you'll be the house with the beautiful floors at the top of everyone's minds.
Continue Reading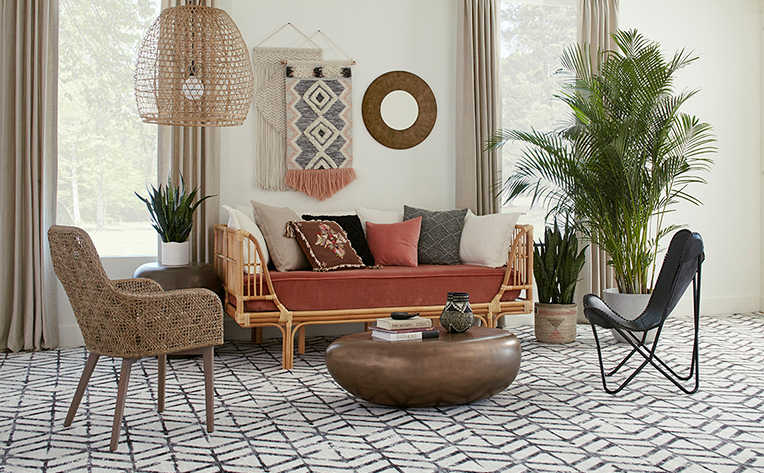 Sep 28, 2020
Fall is always the perfect time for a reset. The weather is changing. School's starting up again. What a perfect time for a re-boot and a refresh. Thankfully, there's a lot of exciting new home design styles to get inspired by this year, so take a look below at some of the most inspiring design trends we've seen popping up in 2020, and let the home makeover begin.
Go Boldly
Boldness is in. Whether it's a colorful and unexpected wallpaper popping up in a bedroom, a monochromatic living room scheme (think a navy couch, a navy wall, and a navy carpet) or an over-the-top light fixture, more is more. What if you went with a living room carpet in a more colorful hue? Or, try the other route: perhaps a classic wood floor will allow you to go bolder with the rest of your interior design?

Get Cozy
Inviting communal rooms are a key trend for 2020—which is not too surprising, considering that many of us are spending more time than ever indoors. Living rooms filled with comfortable couches and chairs, all kinds of blankets and throws, and peaceful lighting are popping up everywhere. Who doesn't want to curl up with a good book in a cozy and inviting family room? A soft carpet that's a dream to walk on can really add to the ambience, too.

A New Kind of Kitchen
A new trend that is popping up on our radar? Kitchens with darker or more colorful accents. Think grey painted cabinets and black countertops. Many of these more colorful (and dare we say atmospheric) kitchens tend to pair really nicely with lighter wood floors, so if you're thinking of re-doing your kitchen and giving it a more sophisticated, understated look, why not take a look at upgrading your floors with some lighter tones.

Bedroom Bliss
Peaceful, bedroom sanctuaries continue to be on everyone's mind when it comes to 2020 interior design trends. Whether it's deciding to upgrade your bedding to the softest sheets or duvet you can find, or finding a new piece of art you love to hang over the headboard, having your bedroom be your favorite room in the house means a better night's sleep, and a more calming morning. And whether you're the kind of person who loves the look of a series of funky rugs placed down on a hardwood floor, or, you'd rather step out of bed each morning onto a plush carpet, why not do some daydreaming to think about what kind of floor you would want in your perfect bedroom.

Top Interior Design Trends for Fall 2020
This fall it's all about going bold—and feeling good. Flooring America is here to keep your home up-to-date with the latest interior design trends. So give us a call today to talk about all of our options for hardwood, luxury vinyl, laminate, carpet and more. Your new and improved home will thank you.
Continue Reading
Sep 25, 2020
Here's to hardwood. It's been popular since pretty much forever, and we don't think it'll ever go out of style. Especially with the new trends happening right now. From the tried and true, straight-up oak floors, to some new styles that really make a room pop, get ready to fall in love with hardwood all over again.
1. High-Variation Hardwood
High-variation hardwood is perfect if you're going for a natural look because no two pieces are alike. As it says in the name, high-variation hardwood varies in color, so each strip of wood has a wide range of shades and hues. The possibilities are endless with high-variation hardwood. So, get the look you want and start enjoying high-variation hardwood.

2. Wide-Plank Hardwood
Though it's been in style for a few years now, wide-plank hardwood is a 2020 trend that we believe is here to stay. Not only do they make any room look larger, wide planks come in a variety of colors and styles to truly fit within any home. If you're in the market for a contemporary feel with a rustic, authentic look, wide-plank hardwood is definitely for you.

3. White Oak
If you're looking for a crisp look that stays looking great, white oak is an ideal hardwood style. In addition to being affordable, it's one of the hardest hardwoods out there while offering a sleek modern aesthetic to any room. The beautiful wavy grain patterns of white oak allow these floors to stand out, even underneath your most unique furniture.

4. Maple
Who doesn't love a good maple hardwood? Well, this year, it's clear that maple is doing something right, because it seems as though everyone has it. The fine grain made up of both curly patterns and uniformly straight lines gives maple a sophisticated, distinctive look. Maple is a durable option (in both hardness and style) that will keep you loving it for years to come.

5. Herringbone Pattern
Originally used for entryways, the herringbone hardwood pattern has now spread to the entire house. This traditional look utilizes a variety of wood species and can bring a pop of personality to any room. Most commonly found in light finishes, herringbone patterns are taking over living rooms, dining rooms, bedrooms, and even kitchens to elevate the style in any space.

Hardwood Floor Trends in 2020
Hardwood is back and ready to make your home truly sing. It will boost your home's value, add warmth to your space, and, depending on which style you choose, add just the right amount of personality to any room. Find your local Flooring America today and check out the latest in hardwood.
Continue Reading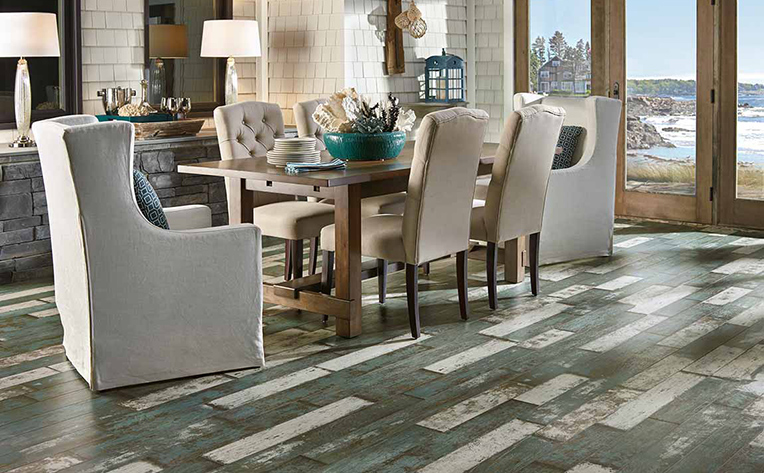 Sep 23, 2020
With everyone spending more time at home, your dining room is probably getting a lot more use. It's now part-work station, part-classroom, and part-mealtime location. And with all of this activity going on, your floors could be taking a hit. Maybe it's time to think about upgrading. Explore the variety of ways you can transform your dining room floors.
Upgrade to Hardwood
A classic for a reason, hardwood flooring sets your dining room apart. Not only does this timeless style give your space an attractive, polished look but also it's easy to clean and maintain. That means you don't have to worry about spills, stains, or that cup of coffee you tipped over during this morning's conference call.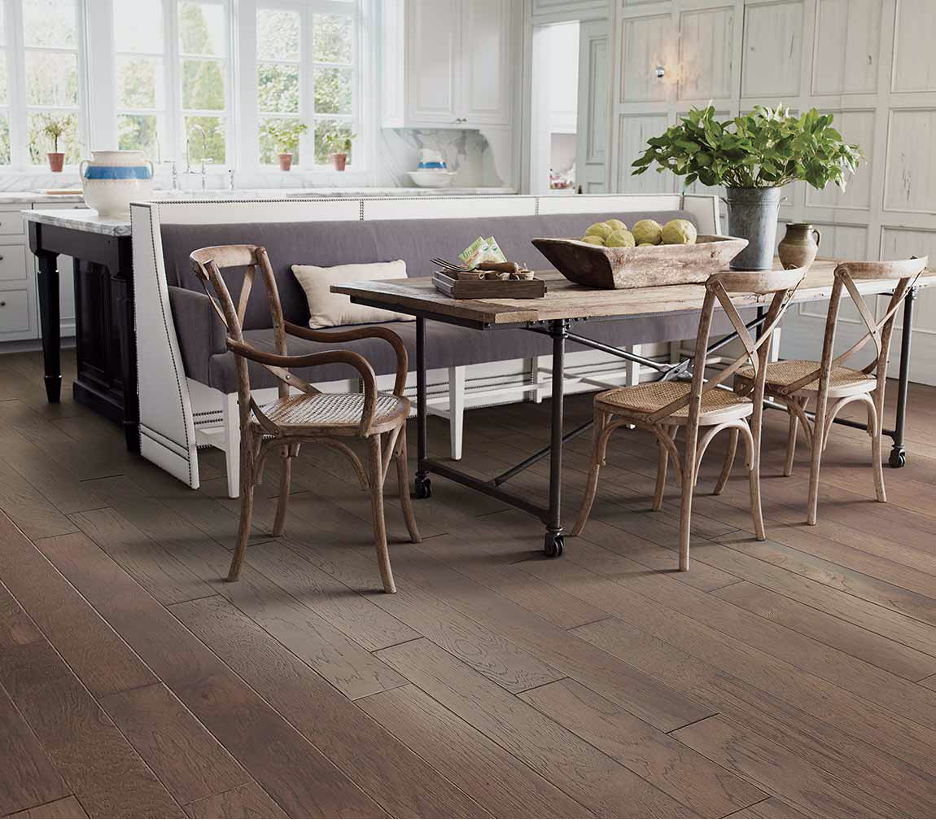 Replace with Laminate
If durability's the name of your game, laminate is a top choice. In addition to being an affordable option, it's stain-resistant, water-resistant, and low-maintenance. So you can let the kids do their worst. That's when laminate is at its best.

Turn to Tile
Tile isn't just for the kitchen and bathroom anymore. Flooring trends in 2020 are bringing it straight into the dining room, with wood-look, marble-look, and stone-look selections—all to create a distinct, beautiful appearance for your traditional dinnertime space.

Luxury Vinyl
Luxury vinyl, known for its outstanding durability, is perfect for a multi-use dining room! It also comes in both wood and tile looks with endless designs to choose from. Luxury vinyl is waterproof, dent proof, and scratch proof – chair feet and spills are no match for this flooring option.

Best Dining Room Flooring for Your Home
When it comes to livening up your dining room floors, there's no better place to do so than your local Flooring America. We have a wide selection of hardwood, tile, luxury vinyl, laminate, and more to renovate your space. Give us a call today.
Continue Reading